Jamaican Wedding
Jamaica is a country of almost 3 million people located in the Caribbean Sea. This island belongs to the Greater Antilles.
A wedding dress in Jamaica usually includes some lace. There is a tradition according to which little bit of the lace from the wedding dress worn by the bride's mother is sewn into the bride's wedding dress.
The wedding dress has its purpose in the bride's future life. Her children are baptized in the clothes made of the cloth used for the wedding dress.
The Jamaicans have their stag and hen nights. Women usually drink so called "bush tea" while men drink rum.
The departure of the bride from her home to the church is quite an event. When walking down the street the people openly express their opinions on the bride's appearance. So if the bride thinks it is necessary she can return home and improve her look.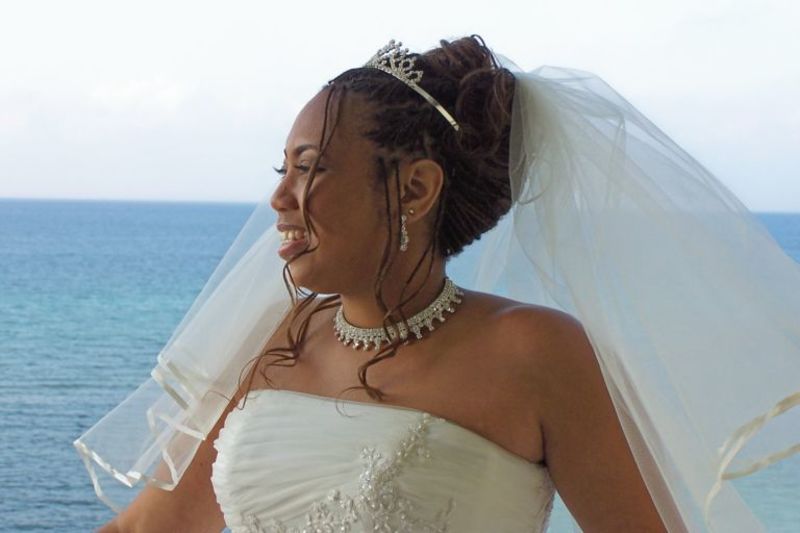 Most Jamaicans are Christians. After the church wedding ceremony everyone goes to the venue where the wedding reception is held.
The wedding reception is usually held in the groom's home. It often set under sort of tent made of branches taken off a coconut tree and some flowers. The wedding is a joyous event involving the whole local community. That is why the local men build the tent together. Everyone is working except the groom. He must not work. Still he is allowed to be present and enjoy the whole thing.
The most popular dish at the Jamaican wedding is a curry stew made of goat meat. It is served with some rice. The act of choosing the animal whose meat will be consumed is also quite important.
The preparation of the wedding cake starts when the engagement is announced. The groom's grandmother then puts some dried fruit in white rum. Actual baking of the cake is done a week before the wedding day. This is a duty of the bride's mother or grandmother.
Several wedding cakes are made. They are traditionally covered with some lace. Then they are carried by the group of married women wearing white dress and white head covers to the place where the wedding reception is held.
The newlyweds leave the wedding reception first. Everyone else continues to party until the morning.

References

Jamaica

https://en.wikipedia.org/wiki/Jamaica

Jamaican Wedding Traditions

http://weddingdetails.com/lore-tradition/jamaica/

Weddings Traditions and Requirements in Jamaica

http://caribya.com/jamaica/weddings/requirements.and.traditions/

Jamaica Local Customs, A Guide to Local Jamaican Wedding Customs

http://www.destinationweddinglink.com/jamaica_wedding_customs.html

Image(s)

Jamaican bride (Mary Louise, Flickr)

https://www.flickr.com/photos/ciaobellaImage(s)/2164427694/