Greek Wedding
A couple in Greece gets engaged in front of family members. Simple golden rings are put on their left hand. A bride-to-be and a groom-to-be will wear the same rings at their wedding. There is an engagement party that follows the exchange of the rings. In the period between engagement and wedding the couple is required to meet the local priest on several occasions. This is kind of a short preparation course.
Most Greeks are Orthodox Christians. That is why weddings are rare in some parts of the year. It is in the first part of August which is dedicated to Virgin Mary. The weddings do not happen 40 days before Christmas and Easter. People also do not marry on two more religious feasts. It is on the 29th August when Greeks commemorate the death of Saint John the Baptist and on the 14th September which is the Exaltation of the Holy Cross.
Wedding means the creation of new home. Before the wedding a bride and group of single women arrive to make a bridal bed. This tradition goes on after the groom gives his approval. It consists of several rituals.
Some money and rice are put on the bed. Both things have symbolic meaning. Money is the symbol of prosperous future. Rice on the other side symbolize becoming a part of certain place or community. Most couples dream of children. In hope of reaching this dream a baby is rolled across the bridal bed.
Greek bride has a bridesmaid or "koumbara" as she is known there. The bride is dressed up by her friends. It is interesting to mention that on the soles of bride's shoes there are written names of her single friends. The shoe is checked again after the end of wedding reception. Naturally some names will be erased. Those people are going to get married next.
The bride leaves her old home accompanied by her dad. Just before her departure she is supposed to look at the house for the very last time. She does so as it is believed that her children will inherit characteristics of her family.
Every groom needs a good best man ("koumbaro"). On the wedding day he shaves the groom. He is dressed up by his friends.
Like in many other cultures Greeks have many wedding related prejudices. Bride's wedding dress is always so beautiful. Still you should be careful when paying a compliment cause your action can create some bad results. The effect of the evil eye could be created. For example, a wedding dress could be damaged. How to fight the evil eye? People traditionally carry a blue "nazar" (amulet).
There is also an unusual procedure that should help. After paying a compliment one must spit three times for luck. Well, you do not have to really spit. It is enough to say "ptou" three times.
Perhaps a bride would not feel walking comfortably but for having a prosperous future little sacrifice is needed. A Greek bride traditionally puts a golden coin in her shoe.
A groom waits for his bride in front of the church. He is holding a flower bouquet which he is going to give to the bride. She is accompanied by her father.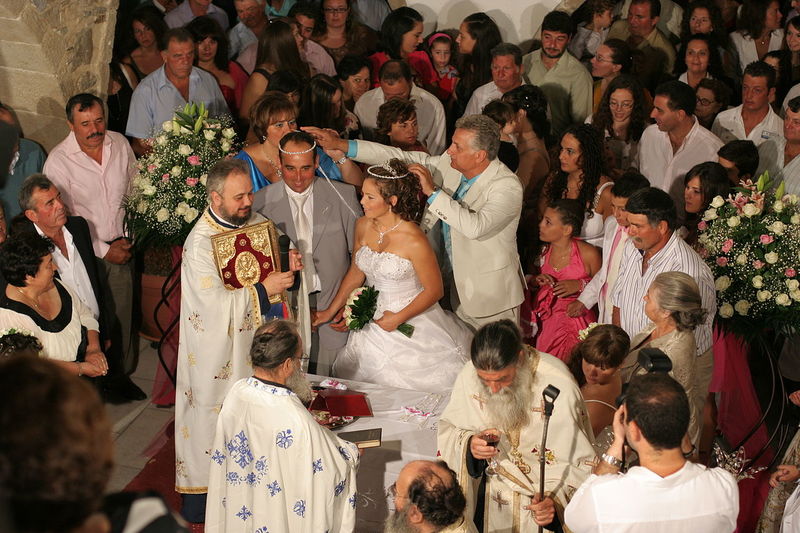 Greek Orthodox wedding ceremony is quite long and complex one. Exchange of the wedding rings is done by the koumbaro. The whole procedure must be done three times. Rings are blessed and put on the right hand of both bride and groom. During wedding ceremony they will hold their right hands together as the symbol of newly formed union.
A bride and a groom hold candles in their left hand. Light of these candles symbolically represents Christ. These candles can be connected with a piece of ribbon. This ribbon can represent the new union of two people. The couple can leave the candles in the church. They can be brought home and used later. But they should not finish in the garbage.
A very important object in the ceremony is the crown ("stefana"). Both bride and groom wear a crown. During the ceremony koumbaro moves them from one head to the other one and back three times.
Here is one more detail concerning the wedding crowns. After the ceremony crowns will be put in a special box called "stefanothikes" (plural "stefanothiki") and taken to the couple's new home.
The wedding ceremony continues with the reading of the Epistle of St. Paul to the Ephesians from the Bible.
A priest pours some wine in so called "common cup". Both bride and groom should drink from it three times.
Then they will walk around the table on which a priest keeps the Bible, the cup and candles. In this act they are actually guided by the priest. He blesses them and takes off their crowns. The couple is now officially declared married.
Greek newlyweds usually invite odd number of guest to their wedding reception. It is so as odd numbers are believed to be luckier than those even ones.
When arriving at the wedding reception the newlyweds walk around the dance floor three times. The number three symbolize the Holy Trinity. After that they seat at the special table set for them.
Each guest present at the wedding gets so called "martyrika". It is presented to each person by the koumbaro or koumbara. The "martyrika" consists of a small pin with blue or pink ribbon and cross or tiny icon on it. Guests wear "martyrika" on their clothes.
Guests also get an odd number of sugar coated almonds ("koufeta"). These almonds have an extra purpose for single people. A single person can put an almond under the pillow. She or he will then dream of a future spouse.
There is no wedding reception without music and dance. Greek people usually dance some of their traditional dances like tsamiko, zeibekiko and kalamatianos. After each dance the band performing music gets some money.
The wedding reception ends with one more dance. During this dance people pin some money on the bride's and groom's clothes.

References

Muffy Marracco, Greek Wedding Traditions

https://blog.udemy.com/greek-wedding-traditions/

The Traditions of Orthodox Weddings

http://www.blessedcelebration.com/All_About_Orthodox_Weddings_s/19.htm

Greek Orthodox Wedding

http://www.femalefirst.co.uk/weddings/Greek+Orthodox+Weddings-121.html

Image(s)

Greek Orthodox wedding ceremony (photo by Zde)

http://commons.wikimedia.org/wiki/File:Greek_Orthodox_wedding_in_Tripodes,_Naxos,_119259.JPG