Dutch Weddings
One term many people associate with the Netherlands are traditional wooden shoes known as clogs. Dutch men once used clogs to express their feelings for the woman they love. A man arrived at night and put the clogs in front of the woman's home. If the next day she wore the same clogs it meant that she would like to marry him.
Many Dutch weddings include "lily-of-the-valley". This flower symbolizes the revival of happiness.
Two groups of guests participate in the wedding. The first one includes the family members and close friends. They are there during whole wedding day. Some couples invite few of their co-workers to the wedding.
Nowadays there is a popular tradition of a small party where the couple prepares for the wedding day. This party is held in the house or apartment belonging to the bride's parents on a day before the wedding. It is a lovely, funny event.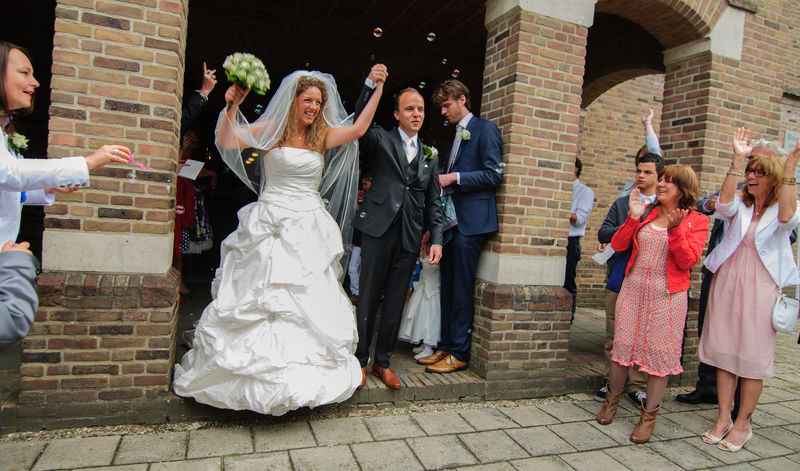 Dutch must get married in the civil ceremony for the wedding to be legal. It is interesting to mention that the main condition for such a ceremony is the state official present. That is why the ceremony can be held at a place of personal choice. A religious wedding ceremony is an optional one.
When compared to other nations it may sound a bit unusual that the wedding cake is eaten shortly after the wedding ceremony.
At the wedding reception the bride and groom traditionally seat under a special canopy made of small branches taken off some coniferous tree. The newlyweds enjoy the presents they received from the guests. These presents are opened right there at the wedding reception.
Probably the most famous traditional Dutch drink served at the wedding reception is "bruidstranen" (bride's tears). This liqueur among other ingredients includes a golden or silver leaf. In the old Dutch word "tranen" is related to the golden leaf in the drink. This drink symbolically represents tears of joy cried by the bride at her wedding day.
Out of numerous dishes prepared for the occasion let's just mention a sweet delicacy known as the "bruid suikas" ("bridal sugar").

References

Clog

https://en.wikipedia.org/wiki/Clog

Dutch Wedding Traditions

http://www.worldweddingtraditions.net/dutch-wedding-traditions/

Dutch Wedding Customs

http://eragem.com/news/dutch-wedding-customs/

Bruidstranen

https://nl.wikipedia.org/wiki/Bruidstranen

Image(s)

Dutch wedding (photo by Archangel12, Flickr)

https://www.flickr.com/photos/archangel12/7840557730/in/photolist-cWQUDQ-cWQyDo-cWQxib-cWQGkh-cWQVHG-tUv16-8yAPWv-8BFNFC-8BFNFY-8yDS4b-8BFNFS-pdjiZF-9YktgK-cWRgdm-4ZnshU-9WA7Qv-9WAeYK-9WD4pL-9WD1kY-9WA9vr-cWQno7-9WCX3G-cWQkJY-ipcQdd-pc7niL-9WD2Wq-8yDSpb-6d7Fhw-p7bd2h-9WAeAZ-9WAcHg-9WAahH-9YMBHJ-p7bo1A-8oRydV-p6WSo4-9WD3w3-9WAcnD-9WD3fs-9WD28h-9WD2mb-cWRqtS-cWQXrE-cWRkps-cWQTrL-cWR9pN-cWR4Sq-cWReyb-cWQNP7-cWR7Zd