Brazilian Wedding
Brazil is the largest and most populous country in South America. Roman Catholics and various Protestant Christians make 86,8% of the population (2010 census).
A Brazilian groom has an unusual way to show his feelings and abbility to successfully live together with his bride. Believe it or not he has to tame a donkey. This tradition is known as "bumba-meu-boi".
Engagement and wedding rings in Brazil are the same. Until the wedding rings ("alianças") are worn on the right hand. At the wedding ceremony they are moved to the left hand. Rings are usually gold.
Before the wedding a bride organizes a party known as the "chá de cozinha" or "chá de Panela. Her female friends and cousins are invited.In recent years some brides invite male cousins too. All invited bring various presents that may be used in the couple's kitchen. This party can be part of the hen party ("festa de despedida") or be organized separately.
The couple can choose three bestmen ("padrinhos") and three bestwomen ("madrinhas"). They do not have to be couples in their private life.
Like in some other societies a bride and groom should not see each other before the wedding ceremony. Otherwise something bad will happen.
Hem of a wedding dress should include list of bride's single female friends. This should help them to get married faster.
Colours are very important when chosing bridesmaids. They have to be dressed in clothes of various colours. Having the clothes of same colour is a sign of bad luck.
A groom arrives at the wedding ceremony first. Once there was a tradition that a bride arrives at least 10 minutes after the scheduled time.
A Brazilian wedding is usually held on Saturday. It includes 2 flower girls. Only one actually sprinkles flowers in front of the bride. The other one carries wedding rings.
The actual wedding ceremony depends on the religion of bride and groom. In most cases it is either Catholic or Protestant one.
After the wedding ceremony a marriage license is signed by the couple, padrinhos and madrinhas. Within 90 days this document has to be brought to the state office. That way the wedding becomes legal.
When the couple gets out of the church and guests throw some rice over them. Rice is a symbol of prosperous life.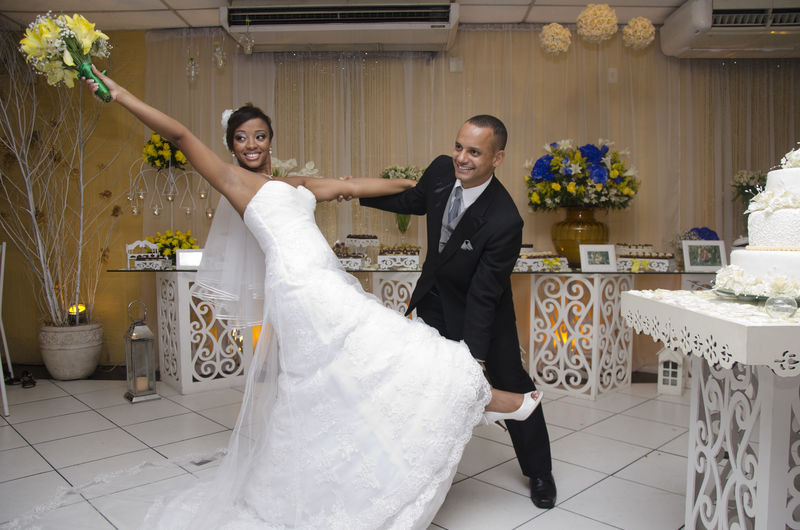 A wedding reception includes numerous speeches by the family members and other guests.
Sometime during a wedding reception a groom's tie is cut into pieces. Kind of auction lead by the best man is set where these pieces are sold. That way guests help the newlyweds in their future life.
At the same time as cutting the tie a bride puts her shoe on the tray and female guests put some money in it.
Every wedding off course has a wedding cake. Many other delicacies are served. The most popular of them is "bem casado" ("well-married"). This traditional type of sweets symbolize good luck and prosperous new life. "Bem casados" a sandwich type of biscuits with various fillings like "doce de ovos" (sweet egg cream), fruit jams etc.

References

Brazil

https://en.wikipedia.org/wiki/Brazil

6 Brazilian Wedding Traditions You didn't Know About

http://www.weddedwonderland.com/6-brazilian-wedding-traditions-you-didnt-know-about/

Brazilian Wedding Traditions

http://www.best-country.com/south_america/brazil/wedding

Brazilian Wedding Traditions

http://blogs.transparent.com/portuguese/brazilian-wedding-traditions/

Robert Topper, Brazilian Wedding Traditions

http://ezinearticles.com/?Brazilian-Wedding-Traditions&id=9193328

Antonio Lima, Brazilian Wedding Tradition

https://boobooandmishka.wordpress.com/2015/06/25/brazilian-wedding-tradition/

Planning a wedding? Find out what to expect for the marriage ceremony in Brazil...

https://www.angloinfo.com/how-to/brazil/family/marriage-partnerships/the-ceremony

Bem Casados - Happily Married Cookies

https://www.thespruce.com/bem-casados-happily-married-cookies-3029751

image(s)

Brazilian Newlyweds (photo by Rachel Soares, Flickr)

https://www.flickr.com/photos/rachsoares/11198968184/